Gainesville grad vaults to power at UGA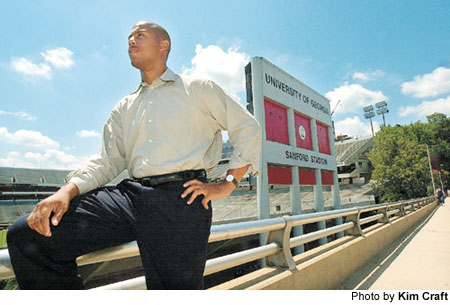 1988 Gainesville High graduate Damon Evans was promoted to senior associate athletic director at the University of Georgia in July 2000. Evans, just 30 years old, is now the No. 2 official in the department, behind only Athletic Director Vince Dooley. "I've always wanted to do things ahead of time," Evans said.
This story originally appeared in The Times of Gainesville, Ga., in July 2000.
by DAN WASHBURN
ATHENS, Ga. — Damon Evans knows what he wants. And it seems he usually gets it.
"Well, look at that," Evans said, spotting an open parking spot along Broad Street in downtown Athens — a near impossibility, especially during lunchtime. The opening sat directly in front of the Broad Street Grill, Evans' destination on this sunny afternoon.
The 30-year-old pulled his 1999 Cadillac into the opening, his baby face unfolding into a wide and welcoming smile.
Recently, Evans has found many reasons to smile. His promotion earlier this month to senior associate athletic director at the University of Georgia is the latest stop on Evans' express-lane ride through life.
In 1987, Evans was a senior at Gainesville High School and one of the top football recruits in the state. In 1993, he ended a four-year run as a wide receiver for Georgia in the Citrus Bowl.
And now, just six years after receiving his master's degree in sports management from UGA, Evans is second-in-charge at one of the largest college athletic departments in the country. The only person Evans answers to is Athletic Director Vince Dooley, Georgia's legendary former football coach, who still vividly remembers sitting in Evans' living room and offering him a scholarship to play football for the Bulldogs.
"He's on the fast track, sure," Dooley said. "I think he is destined for big things, but he's got big things right now."
Big things, indeed. At Georgia, Evans is the athletic department's chief financial officer, responsible for all internal operations. That means every expenditure, every budget must go through him.
"I'm kind of the guy that everyone comes to when they need something done," Evans said matter-of-factly as he looked over the Broad Street Grill's menu.
Evans normally jogs at this time of day — he has stayed fit in his post-football years, currently checking in at 6-foot-3, 215 pounds, just 10 pounds over his playing weight — but kindly rearranged his schedule for an interview. He was well-dressed and striking.
The waitress approached. As usual, Evans knew what he wanted — eventually.
"Can I get the steak and cheese?" he asked the waitress. "However, I don't want onions. No onions. And no green peppers."
"No onions. No green peppers," the waitress repeated.
"And can I get the lettuce and tomatoes on the side?"
"Lettuce and tomatoes on the side."
"Actually, you can keep the lettuce and tomatoes, too. I just want steak, cheese and mushrooms … And no sauce."
While ordering a simple cheesesteak sandwich can turn into a major production, there has been no such indecision in Evans' accelerated career path. No one, not even Evans himself, is surprised by his early success. Friends and family knew he was destined for distinction, whether it was as a professional football player, an engineer or a business executive.
"He's always been very competitive, very ambitious, a high achiever," said Evans' mother Diane, who works at Gwinnett County Senior Services in Lawrenceville. "He always was involved in sports when he was a young boy, and he always strived to win."
Evans spent his early years in Nebraska, his mother's home state, and grew up wanting to play football for the University of Nebraska. But Evans' father, Sam, was raised in Hall County, and the family moved to Gainesville before Evans' sophomore year in high school. It wasn't long before Evans' Cornhusker dreams were shucked by Bulldog ambitions.
"One of the reasons I moved back to Georgia," Sam admitted, "is because I had always envisioned him being a Georgia Bulldog."
At Gainesville High, Evans caught a school-record 44 passes his senior season and was named first-team All-State as a wide receiver. He was also MVP of the basketball team and set a school record in the 220-yard dash with the track team.
But Evans wasn't just an athlete.
"He always had great ideas," said high school friend Tyrone Sims. "He was always very enthusiastic and self-motivated and always looked toward prospering in the near future."
The future is now for Evans. He married his college sweetheart, the former Kerri Budd, four years ago. Their son Cameron — who everyone says looks just like his father — was born in November 1998. Their new home, in a subdivision six miles outside of Athens, was completed last fall. Evans' Cadillac and Chevy Suburban sit in the driveway.
The shiny new automobiles are a slight step up from the clunker Evans sputtered around in during college. It was a 1980 Chevette. Its body was rusty and riddled with dents. Originally beige, the car took on several other colors over the years. Now, any memory of that car begins and ends with hearty laughter.
"When he left my dorm," Kerri remembered, "I could hear him driving away. I could hear it backfiring."
"He drove a lemon around in school," said Sims. "But he always said he was going to be in a car that would get him around for good one day."
In a Lexus and Mercedes Benz world, Evans' choice of college transportation was refreshing. So was his choice of an undergraduate major.
"He was a finance major from the start. He didn't want to be known as just a jock," said Evans' close friend and college roommate Arthur Johnson. "We were both in the business school, and there were probably some other majors we could have chosen where life would have been a lot easier. We certainly wouldn't have had as many long nights."
And Evans, who was red-shirted his freshman season, graduated in four years. He then crammed his entire graduate coursework into one year in order to have it covered by his athletic scholarship.
It was during his junior year at Georgia that Evans, realizing an NFL career might not be in the offing (he was competing for catches with future pro Andre Hastings), decided that he wanted to become an athletic director.
"I won't say that I wasn't kind of disappointed," said Evans' father, who serves on the Oakwood city council. "But those were the goals that he set for himself. He found out that his true calling was to help other people come up, not to be a professional athlete."
After earning his master's degree, Evans began his rapid rise. A one-year internship with the Southeastern Conference in Birmingham, Ala., was followed by a two-year stint as director of compliance and operations at the University of Missouri and three years back at the SEC as assistant commissioner for eligibility and compliance.
Evans was eager to do more than work on compliance issues. He wanted to put his finance degree to work. And then, in 1998, he received a call from Dooley.
"I hung up the phone and told my wife, 'It's too good to be true,'" Evans said.
It was both good and true. Evans was headed back to Georgia as an associate athletic director. Originally, Evans thought if he rose to such a position by age 33 he'd be "on the fast track." At the time Dooley came calling, he was only 28.
"I've always wanted to do things ahead of time," Evans said. "I've always wanted to be the youngest AD (athletic director) ever at a big-time Division I-A institution."
For all his drive and determination, Evans comes off as calm and carefree. He's outgoing and engaging. In his presence, strangers immediately feel like longtime friends. But don't be fooled, warns his mother.
"He's tough," Diane said. "He likes things done right the first time."
"He likes order," echoed Kerri, a registered nurse.
Those who know Evans best say he is meticulous when comes to certain aspects of his life: his appearance, his yard work, the way his dresser drawers are organized. Those who know Evans best also say that it is his attention to detail that will one day make him an athletic director at a major university.
When and where, according Dooley, will be up to Evans himself: "I think he is so capable that he can pick and choose his opportunities."
Knowing Evans, he'll probably pick and choose correctly. He did at the Broad Street Grill. He got his cheesesteak. No onions. No peppers. No lettuce and tomato. And he ate the whole thing.
"I'll definitely have to work out this evening," Evans said with a wide grin.